Lumbar Disc Prolapse
Case Study : Lumbar Disc Prolapse Patient Name: Ms.Tasniya Age: 23 Sex: Female
Presenting complaints:
A 23 years aged female patient from Malappuram, Kerala visited our hospital with acute pain in the lower back radiating to both legs with numbness in the right leg for past five months. She had consulted her orthopedic at her hometown and he suggested for immediate surgery to relieve the nerve compression on the spinal cord. She was not able to do normal duties and almost bedridden. Patient wanted to try Ayurvedic treatment as a second option.
Investigations:
All lab reports are within normal range. MRI of whole spine – Desiccated L4-L5 shows Diffuse posterior disc extrusion and superior migration causing lumbar canal stenosis and compression of descending spinal nerve roots
Treatment course:
The patient stayed in Parathuvayalil hospital for 26 days and had under gone following course of Ayurveda therapies along with internal administration of Ayurveda decoctions, tablets and external oils and applications. she was also provided with mechanical traction and physiotherapy exercises during the course of stay.
External therapies
Abhyangam – four handed oil massage with special attention to MARMA (VITAL) points.
Podi Kizhi – Application of warm boluses filled with herbal powders and leaves dipped in medicated oils.
Njavara Kizhi – Application of warm rice bolus massage heated in cow's milk and special herbal decoction
Lepam – warm herbal pastes in the lower back
Kadivasty – medicated oil application in the lower back
Virechanam – Mild laxatives
Physiotherapy & Manipulation of spine
Condition at the time of discharge:
There was considerable reduction in pain and numbness. The spine was immobilized in a cylindrical POP cast for one month followed by discharge.
The patient was advised to take complete rest with POP cast for a month and afterwards to remove the POP cast at nearby hospital in hometown. She continued certain exercises and Yoga postures to strengthen her back muscles for about 3 months. Exactly after a year she came back with a new MRI which showed significant improvement in the spinal nerve compression. Though she was absolutely normal and doing normal duties, she at her will took another short course of PANCHAKARMA to restore her general heath and muscle tone.

Following are the MRI reports of the patient before and after treatment which shows significant improvement in the post treatment report.
MRI Reports before Treatment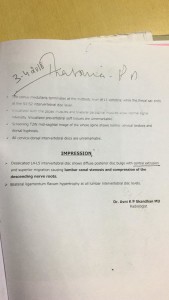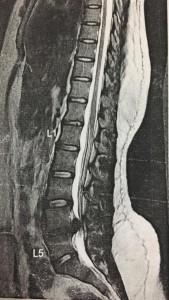 MRI Reports after Treatment